The code of conduct that both Bonifas and upheld was put to the test on 18, 1976, when they were killed by the KPA. The two men were performing a tree trimming detail in Korea when they were ambushed by about 30 KPA guards. Two of them were killed and several others were wounded in the attack. The incident was deemed a war crime by the United Nations and the Korean Government, but it was not clear why the U.S. representative had been questioned.
On 20 2018, the U.S. and Korean militaries held a memorial ceremony for the fallen American soldiers who were killed by Korea 45 years ago. The U.S. service members were Capt. Bonifas, a company commander, and 1st Lt. , a platoon leader. The two died while chopping down a tree in the Joint Security Area, which is the demilitarized zone between the two Koreas.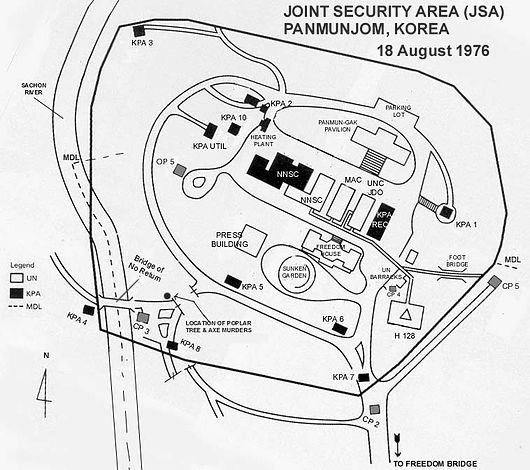 A lookout post near a tree filled depression allowed UNC forces to disperse the Korean guards and retrieve the bodies of the two soldiers. The UNC force then put Bonifas' body into a truck and drove it to OP No. 5. The UNC guards did not see when he was spotted on the road, and he and Bonifas were pronounced dead at the scene.
The U.S. Army officials were on their way to Korea when a tree was uprooted in a DMZ. They were trying to trim a tree which Korean soldiers claimed was planted by Il-. The U.S. and Korean forces seized the tree and conducted an Operation named Bunyan to intimidate the Koreans. The mission succeeded.
The U.S. Army officers were dispatched to the Korean Demilitarized Zone (DMZ) to trim a poplar tree. The Koreans said that the tree was planted by Il-, so they cut it down. The U.S. and Korean forces feared that if the Koreans cut the tree, they would kill their soldiers. However, the trees were not uprooted in the DMZ and therefore, the Americans would be forced to retreat.
The United Nations Command security team was preparing for a tree trimming operation when they were suddenly attacked by Korean soldiers without warning. The men, along with five other people who were killed, were buried in the DMZ. At a ceremony at Bonifas, and Vaia placed a single stem of flower in front of the picture of and Bonifas. The photo was taken with the intention of honoring the two fallen soldiers.
The incident that killed the two U.S. Army officers occurred in the Joint Security Area, which is located in the Korean Demilitarized Zone. They were cutting down a poplar tree, which partially blocked the view of a United Nations observer. The axes, which they had brought back to safety, were then used to kill the U.S. military personnel. The axes were used to slay the officers.